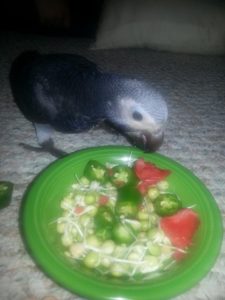 Timneh African Grey Parrot
Hatched - 7/15/13
Gender - DNA'd Female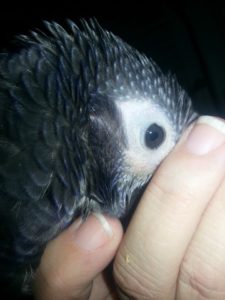 Ash was hatched July 15, 2013.  We homed her in October of that year.  She had a broken leg from in the nest and it was already healing the wrong way.  Don't get me wrong...it has NEVER stopped her from being 'normal'.  She isn't in pain and it does not slow her down.
We got Ash for the Critter C.A.R.E. Club which I started at the Middle/High school where I worked.  C.A.R.E. stands for Compassion Advocacy Respect & Education.
The kids loved her!  She was still so young that we hand fed her (well, I did and they watched).  She was so very sweet.  Now past her 'teenage' years, she is less friendly to strangers, but will do anything for me.  Unless she is on the ground...in which case ANYONE can pick her up because she wants back up on her cage.
She is quite the music snob.  She loves Sinatra, Christmas music and all things Bruno Mars!  LOL!  She whistles "Don't Worry...Be Happy" and the "ChaCha Slide".  She also does a lovely rendition of the Andy Griffith theme song.
She is quite loud during football, I don't think she likes THOSE whistles.
Her favorite treat is yogurt covered sunflower seeds that we call "berry seeds".  She loves fresh food.  Especially when it's warm.  She likes oatmeal, cream of wheat, soup and mashed potatoes.  She likes hot peppers and sprouted beans.  She does NOT like pellets...but she'll gladly eat seed mixes.
She can drive us crazy some times, but she brings a whole lot of laughs, especially when she dances.  We basically have a loud, dancing toddler for the next 75 years or so.