Below are our rescues.  All with different stories.  Young and old, abused, neglected, scared…now safe, restored, and most of all LOVED.
You'll see their words below their names, what once was and what they are now.  The difference is not just in the words.  You can see it in their eyes, they know they are loved.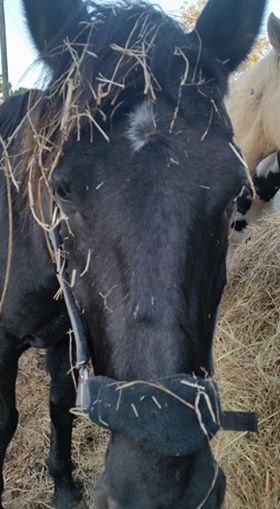 Atlas
Abused / Rescued
Atlas is said to have been a police horse for the Mardi Gras.  There are signs that would agree, but we probably will never know.  What we do know… He is one amazing horse with an equally amazing story.
Atlas arrived to us hundreds of pounds underweight.  But that was the least of our worries.  He was missing nearly 1/3 of his front right hoof.  And his front left pad was totally filleted.  Both a vet and a farrier told us to put him down.  But we saw a will to live and as long as he would fight, we would fight with him.  It was nearly a year to get him back on his feet, but now there is no greater sight than to see him run.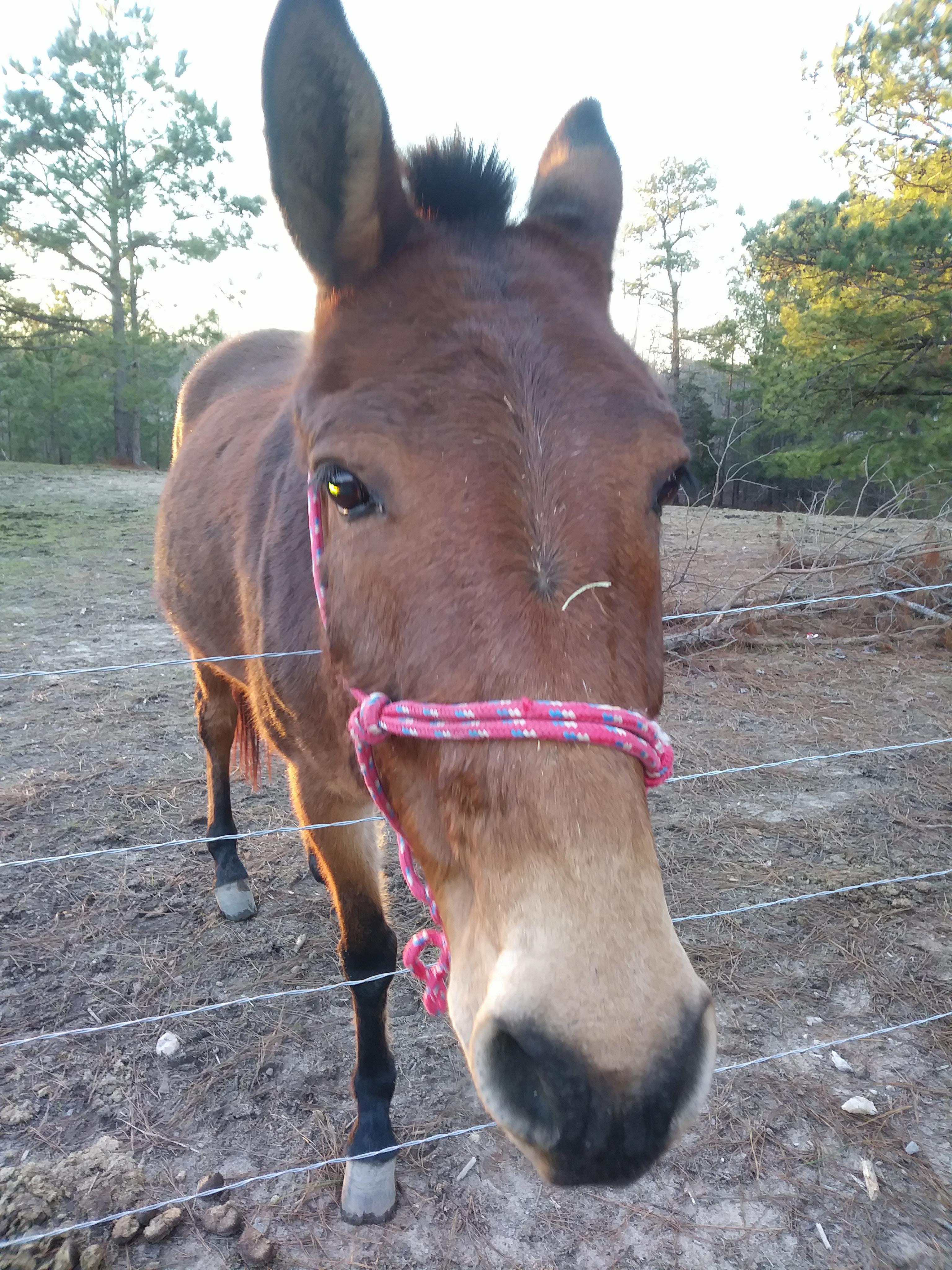 Algo (Buddy)
Abandoned / Noble
Our 15'3 hh gaited mule.  This boy has been through a lot, and was definitely abused somewhere in his past.  It took over a month before we could even tough his ears.  He's still not a fan, unless it's on his terms.  This boy is a cross between a TWH and a F'jord donkey.  He carries the F'jord stripes on his legs.  

Alle-luia (Alle or Lou)
Timid / Loving
Sweetest girl ever, loves everyone.  This little-bit is the smallest on the farm.  Although I call her Alle, most call her Lou. She is a 2016 model with an old soul.  She believes she should be able to sit in your lap.  With her amazing personality, she is going to be the most perfect therapy donkey.  We have big plans for this pint sized peanut.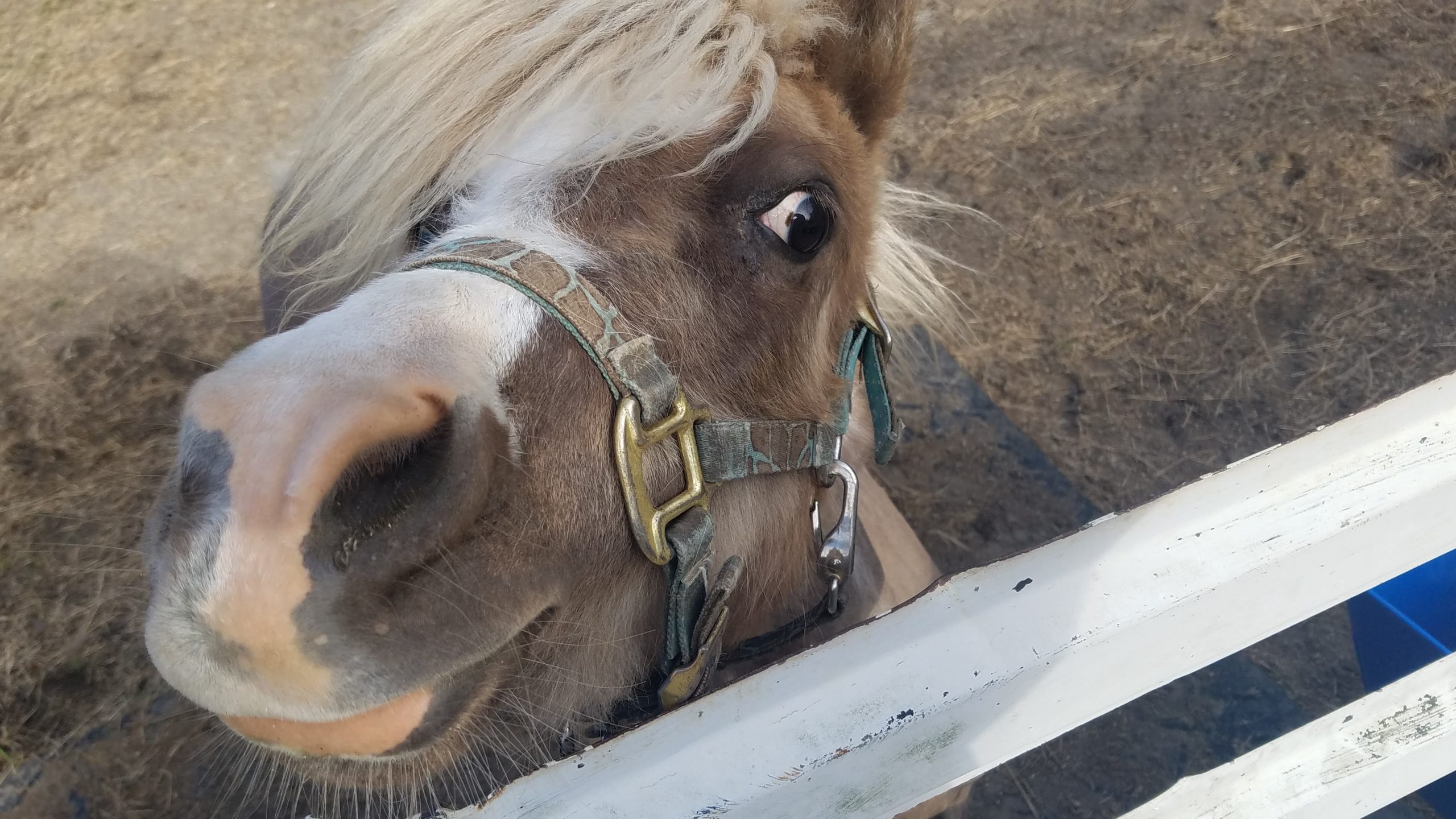 Anna (AnnaGrace)
Scared / Courageous
Anna (Ah-na)
Happy little mama to be.

Aurora (Sissy)
Frail / Fit
Saved from a bad situation.  This little girl was just 6 months old upon arrival.  She came to us with her brother, both of whom were very underweight and in poor health.  Sissy, as she is called, had suffered structurally, from the malnutrition.  She has locking patellas (knee caps). Thankfully, with corrective farrier work and daily exercise, she is growing stronger and her patella issues are rarely noticeable any more.  And now, she has grown taller than her brother Bubba.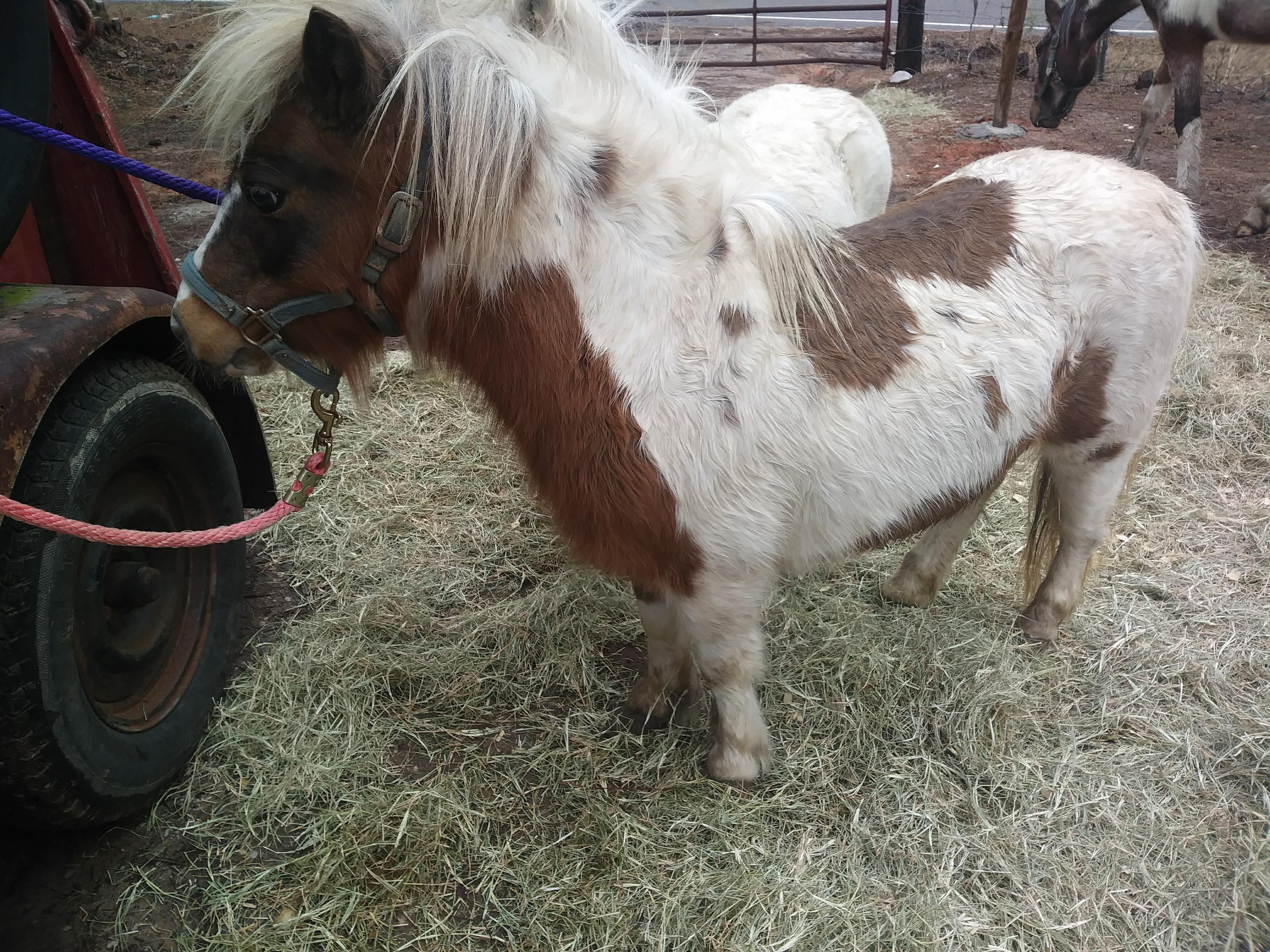 Alice
Frumpy / Fancy
She is pretty and she knows it.  This girl came in with the group of 7 who had not been taken care of.  She, thankfully, was in decent shape.  Just needed some good farrier work and better nutrition.  Alice is the boss mare of the mini heard with Abu, Anna, Achilles & Aurora. She is gentle with people, but pushy with the minis. She does her job well.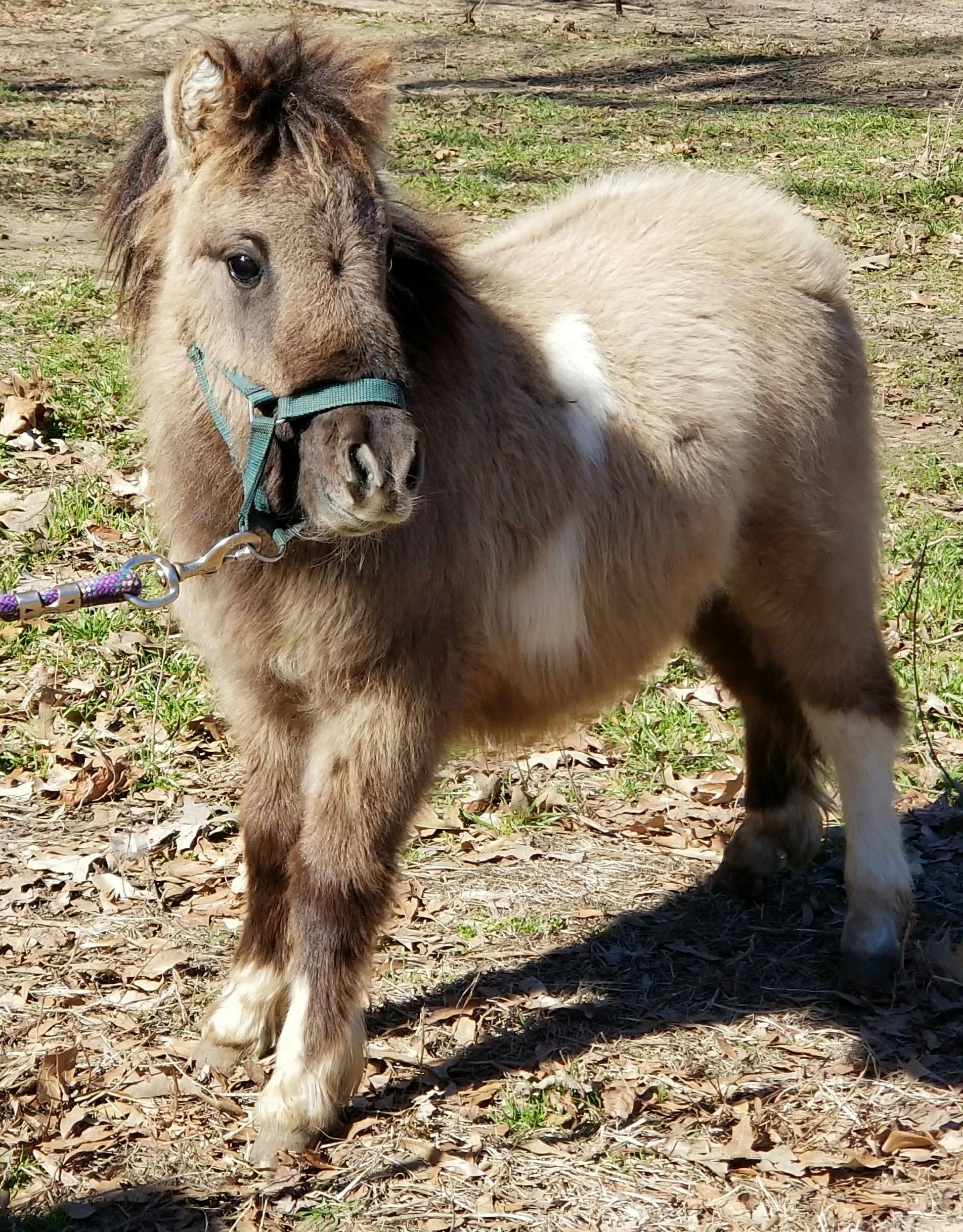 Abu (BooBoo)
Broken / Whole
Sweet Abu has come a very long way.  Saved as a 6 month old from a bad situation, landing in a new, equally bad situation, arriving to us at about a year old only knowing neglect and starvation.  He was a body score of 2 when he got to us.  He was weak, and broken, both in body and spirit.  Now he is in great shape both mentally and physically.  This boy has such kind eyes.  Being a Gruella, his color is ever changing from season to season. He's one cool little guy.

Achilles (Bubba)
Weak / Strong
Don't let the small size full you. He is all stud-muffin.  This little guy was so weak when he arrived.  At a body score of 1 – 2, he could not even stand on his own.  We spent our first 2 nights together with me sleeping in his stall and holding him up to eat and drink.  Thank God, he has made a full recovery and doesn't hold a grudge.  Just another testament to how these sweet creatures are so forgiving.  Bubba is spunky and healthy.  His stout little body is the shortest of all the mini horses.  Don't let his little size full you, he is so strong!  This little guy makes my heart smile.

Avi
Tossed / Adored
Steal my heart!  This guy has me wrapped around his tiny hoof! At the auction, last minute, they decided to separate the babies from their mamas.  Including babies we had just watched nursing.  Avi was one of them, so our gears shifted and we went in to mama/baby mode.  We were going to try to keep as many pairs together as possible.  (We managed to save 4 pairs total in a combined effort with another rescuer from our group.)  When Avi came up, we were told it was a jenny…WRONG!  But that's ok, he will be a great gelded jack.  We were able to get him and his mama. This boy went through some big trauma being loaded at the site and I was worried I'd never be able to get my hands on him after that.  But God had big plans for this boy.  Not even 48 hours after being on the farm, Avi started coming up to me and letting me touch him.  2 days later, he started following me around and letting me walk up to him.  And thank God because he, like several others, became quite sick and needed shots and treatment. Now he is all better… Now, I can't be anywhere near their pasture without my 3 shadows, Avi, Alle & Agnes.  God is so good!

Agnes (Opie or Pearl)
Discarded / Secured
Oh this one!!  While walking around the auction house, I kept going back to this girl.  She was soul-full!  She drew me with her eyes and gentle nudging.  When we got to the stands, we could hear her and when we looked over, she was calling to US!!  My heart melted.  She had found us and we were going to save her…but then someone we knew was also bidding on her, so we decided to let her go to that good home.  Circumstances changed in the following few days, and "Opie" needed a new home.  There was no doubt that we were meant to have her on the farm, so we arranged transportation and got her here.  Opie is the biggest puppy dog you will ever meet.  The largest of our donkeys, she still wants to be in your lap. I am her personal scratching post.  And if I am sitting down, she will rest her (quite heavy) head, on mine. Everyone needs an "Opie" in their life!

Ariel
Forgotten / Remembered
This girl.  She is amazing, determined, strong and has a zest for life.  This girl, somehow, was forgotten.  The kill pen where she was living (in deplorable conditions), forgot she was there.  I happened to stumble across an old post (over 2 months old) and inquired as to where she went.  They said they didn't know who it was…then upon further inspection, they 'found' her.  When she arrived here, she had mud from hoof to mid belly.  Her hoofs were 3-4 inches overgrown and she was in bad shape.  Let me say, even with her horrible feet, she was a gem for the farrier just 2 days after arriving.  Amazing how forgiving these creatures can be.  Ariel followed the new pony AraBella around for about 3 days, much to AraBella's dismay.  And then something amazing happened… AraBella accepted Ariel as her sidekick. (One might say Ariel wore her down! LOL)  Now the 2 are inseparable.  
AraBella (Bella)
Fun
Don't let the small size full you. He is all stud-muffin.
example@example.com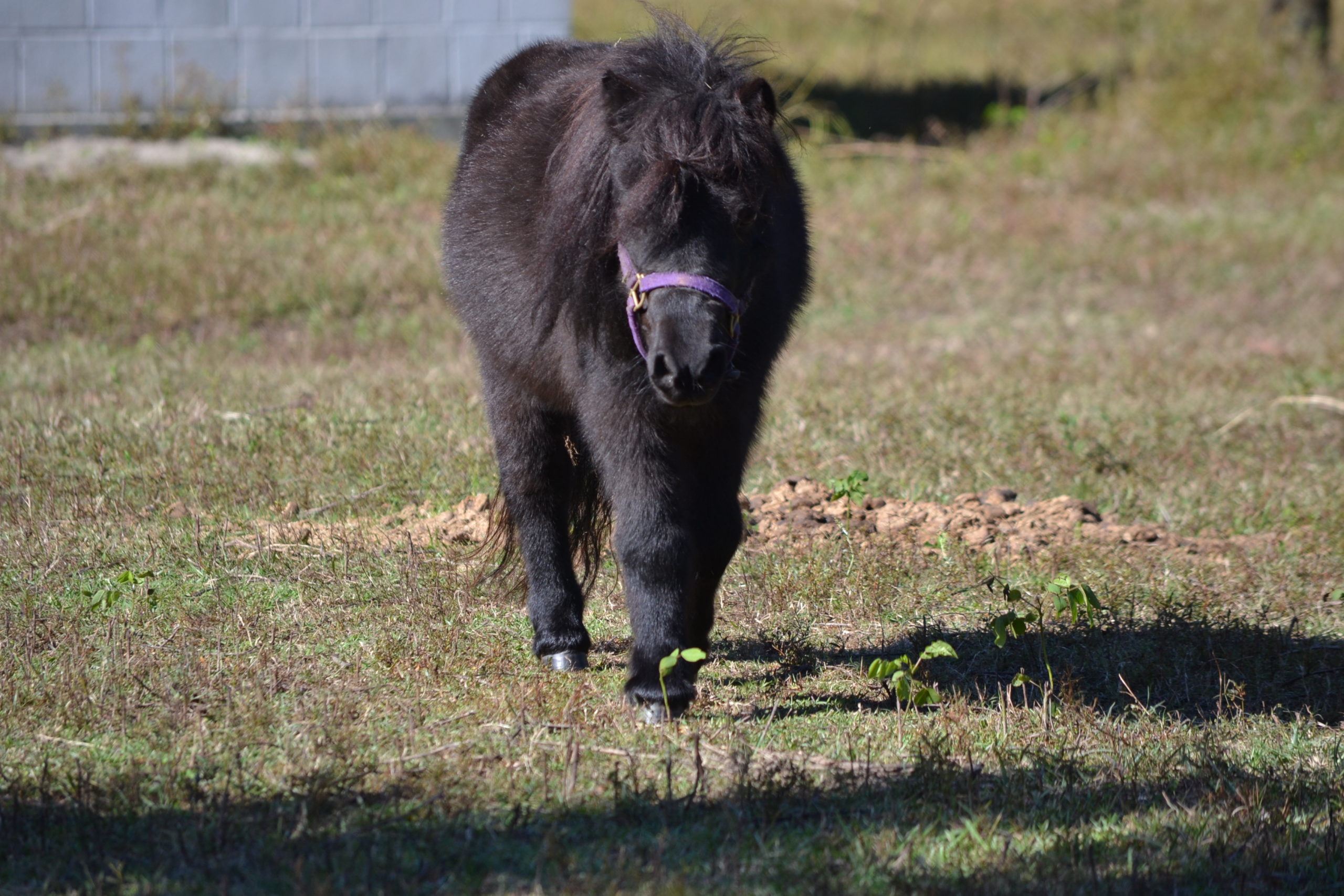 Aladdin (Bubbie)
Fun
Don't let the small size full you. He is all stud-muffin.
example@example.com
A (Snow)
Confused / Comforted
Our adorable white donkey.